TWO MORE GIGS ADDED IN ITALY
28/12/15 16:03
Prizeday will be playing two more gigs in Italy in January and in February 2016.

Thur 14th January - Officina 43, Castel Rozzone(Bergamo)
Sat 27th February - Giardini Luzzati, Genova

NEW DATES ADDED
05/12/15 12:34
After presenting the album "Apps Will Grow Like Feathers" in Berlin, Zurich, London and Milan, new dates added in Italy and in The Netherlands in December.

Barrio's, Milan (IT) Saturday 12
Cafe Rocks, Enschede (NL) Friday 18
Muziekcafè De Bliksem, Den Helder (NL) Saturday 19
CIVIL RIGHTS - NEW VIDEO!
01/09/15 17:10
You should know by now…
New video for song Civil Rights!



UNPLUGGED SHOWCASE!
05/07/15 13:04
Unplugged session including four songs from "Apps Will Grow Like Feathers".
Ending Up Like Stars - God Send Us a New Jesus - War Zone - Punk Singer For a Night in Berlin


WAR ZONE SHORT FILM!
31/05/15 21:12
The short film "War Zone" will accompany the release of Prizeday's debut album "Apps Will Grow Like Feathers.
Five songs included. "Punk Singer for a Night in Berlin". "Psycho Electro Love". "Be Out of This World". "Prism". "War Zone".
Directed by Marco Marchesi.
Shot in Portugal. Screened at Cannes Film Festival 2013.

Preview on Vevo TV!!

-In a post-atomic planet Earth people live in desolated cities and abandoned places, lost in a dark age of superstition and chaos. A horde of threatening robots protects the richest, terrorizing the survivors. K. is a mercenary, she's unaware of her past, she has a mission, deliver a dose of Redatrol, a mysterious drug that can give immortality. Dakota, a pretty wicked girl, will follow her-
ALBUM RELEASE!
31/05/15 20:32
Prizeday's debut album "Apps Will Grow Like Feathers" will be released worldwide on June 4th by Do It Records!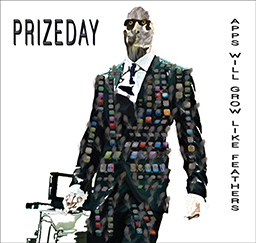 Tracklist:
01 War Zone 02 Techno Hell
03 Civil Rights 04 Ending Up Like Stars 05 Prism
06 Fight or Flight 07 Cross of Summer Light
08 We Sell the Rifles 09 Be Out of this World
10 God Send Us a New Jesus 11 I Hate x Factor
12 Psycho Electro Love 13 Punk Singer for a Night in Berlin

NEW VIDEO, NEW RELEASE!
29/04/15 16:58
Prizeday's new video "Ending Up Like Stars".
Directed by Vadim Pegassov


ENDING UP LIKE STARS - NEW SINGLE!
29/04/15 09:19
NEW RELEASE!
02/02/15 13:06
PRIZEDAY TO OPEN FOR ARTHUR BROWN IN THE UK
17/09/13 11:52
Prizeday will open for The Crazy World Of Arthur Brown in October in Swansea, Birmingham and Liverpool.
British legend Arthur Brown is best known for his number one hit "Fire". His great vocal performances and theatrical style on stage have had a great influence on artists like Peter Gabriel and Bruce Dickinson.
He appeared in the movie "Tommy" by the Who as the priest handing out communion during the song "Eyesight to the blind"



Thur 17th Oct Garage– Swansea

Fri 18th Oct Rainbow– Birmingham

Sat 19th Oct Kazimier– Liverpool
PRIZEDAY INTERVIEWED BY 'IL FATTO QUOTIDIANO'
16/09/13 20:30
Prizeday featured on the most popular Italian magazine 'Il Fatto Quotidiano'.


WAR ZONE AT CANNES!
11/06/13 17:02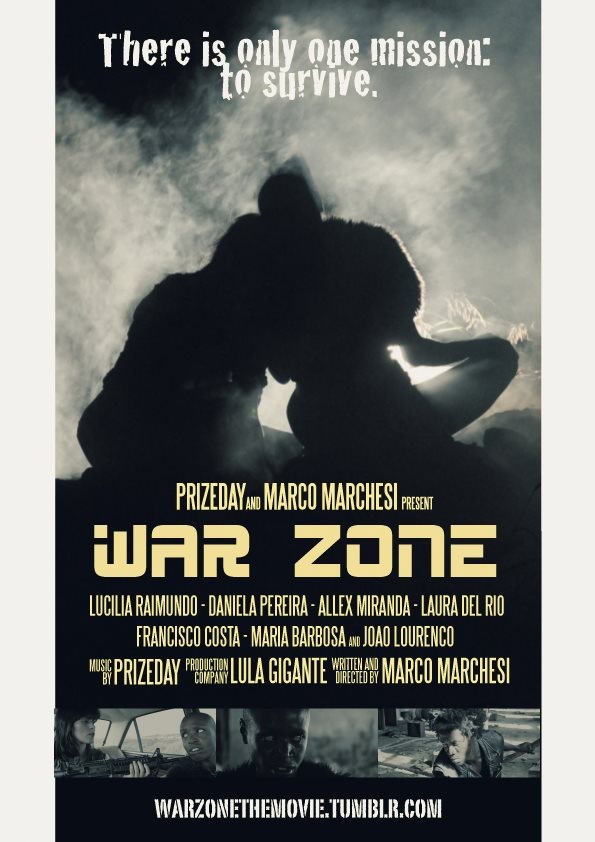 PRIZEDAY FEATURE AT CANNES FILM FESTIVAL
03/04/13 15:18
Prizeday are announcing their own short film feature at Cannes Film Festival this May where the short film War Zone accompanied by the sound track of the bands debut single War Zone will be revealed in full to the world's movie industry and media.
This news accompanies the band's announcement that they will be returning to the UK for the prestigious The Great Escape Festival 17th May with a 10 date run of shows up and down the UK.

Director Marco Marchesi explains 'War Zone' is set in a post-atomic planet Earth, lost in a dark age of superstition and chaos. A horde of robots protect the richest whilst terrorizing the survivors'

Vocalist Quarry from Prizeday says 'when we toured the UK in February we never expected to be invited back so soon and for this to happen as well as the short film being featured at the world's biggest film festival we are all incredibly excited for what's going to happen for us and our music over the next couple of months'

Prizeday start their May UK tour in London on the 7th and complete on the 17th In Brighton for The Great Escape Festival:

7th May The Islington Islington, London
8th May The Viper Rooms Sheffield
9th May Pivo Pivo Glasgow
10th May Madhatters Inverness
11th May Mothers Ruin Bristol
13th May Thirsty Scholar Manchester
14th May The Dublin Castle Camden, London
15th May Surya Islington, London
16th May New Cross Inn London

PRIZEDAY'S DEBUT EP "WAR ZONE" IS NOW AVAILABLE IN DIGITAL STORES!
20/03/13 19:01
The EP includes three songs. WAR ZONE, PUNK SINGER FOR A NIGHT IN BERLIN, GOD SEND US A NEW JESUS.

Songs taken from the forthcoming album "APPS "WILL GROW LIKE FEATHERS" which is due for release later this year.
UK TOUR IN MAY
20/03/13 18:05
Prizeday will play ten dates in the UK in May. The band will also play at The Great Escape Festival on May 17th.

Tues 7thMay London – The Islington
Wed 8th May Sheffield – Viper Rooms
Thur 9th May Glasgow – Pivo Pivo
Fri 10th May Inverness – Mad Hatters
Sat 11th May Bristol – Mothers Ruin
Mon 13th May Manchester – Thirsty Scholar
Tues 14th May London – Dublin Castle
Wed 15th May London – Surya
Thur 16th May London - New Cross Inn
Fri 17th May Brighton - The Great Escape Festival

ITALIANI A LONDRA
24/02/13 08:00
GO SEE PRIZEDAY LIVE AT ONE OF THE FOLLOWING DATES:
13/02/13 23:37
Fri 22nd Feb - The Fishpond – Matlock Bath
Sat 23rd Feb - The Blue Room - Blackpool
Mon 25th Feb - Power's Bar - London
Tue 26th Feb - Undersolo - London
Wed 27th Feb - Dublin Catle - London
Thu 28th Feb - Railway - Bolton
Fri 1st March - Riverside - Selby
Sat 2nd March - Unit - Southampton

PRIZEDAY ANNOUNCE SPRING UK TOUR AND DEBUT SINGLE 'WAR ZONE'....
13/02/13 23:33